Takrut Maha Ud Pichai Songkram Kong Grapan amulet - bound with red waist cord - Ajarn Chum Chai Kiree 2511 BE
This Takrut is not the Takrut Maha Ud commonly known that is used for 'Ud Lap' (riches acquirement). This Takrut uses the Ancient and rarely Mastered Wicha Pichai Songkram (war winning), which is the product of the magical incantations of Ajarn Chum, and another number of the Greatest Masters of the Khao Or magical Tradition, totalling five of the greatest Masters of all time empowering the Takrut within the Sacred Cave of Khao Or. The Takrut has been rebound and is protected within a red covering, ready for wearing as a waist cord Takrut belt.
This amulet was involved in the famous ceremony of Maha Ud magic performed by Ajarn Chum with amazing displays of invincibility magical proof. This amulet has immense Kong Grapan power (bullet and knife proof).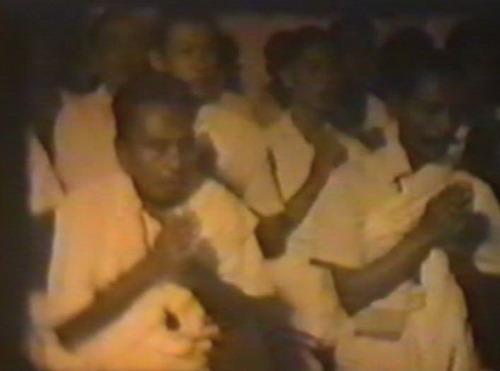 The famous maker of Jatukam, Khun Pantraks Rachadej was also involved in this ceremony, as you can see accompanying Ajarn Chum in the above picture.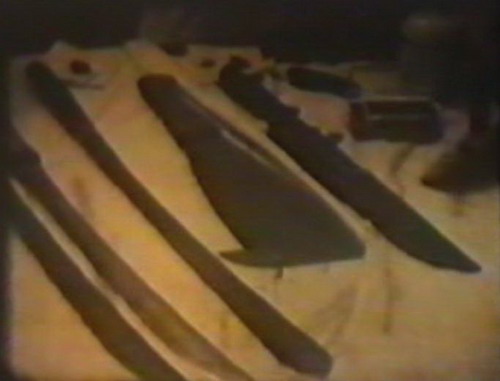 Above; Instruments for testing the power of Kong Grapan bullet and knife proof magic
Tests using guns and sharp knives were performed, to test the magic on the throngs of Devotees present. Ajarn Chum is in our opinion, the greatest and most powerful lay master of all living history of Thai Saiyasart. This amulet is a rare old amulet of undoubtable magical power to protect against knives, bullets and sharp instruments.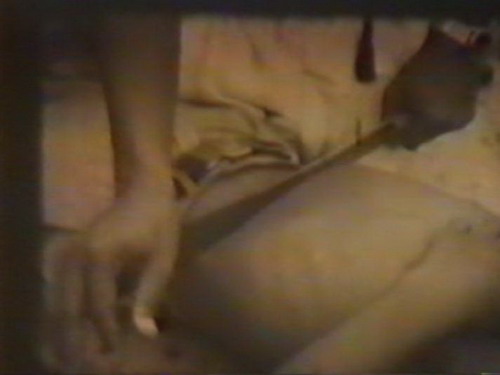 Because the Thai Government had issued papers calling for the army to gather and recruit to go into War in the Indochina war in 2497, Ajarn Chum had a great number of amulets including these Takruts distributed to the military, to go forth against the French in the Indochina Struggle. The Takruts and other amulets from Ajarn Chum proved their worth, with many cases of bulletstopper miracles and other events occurring.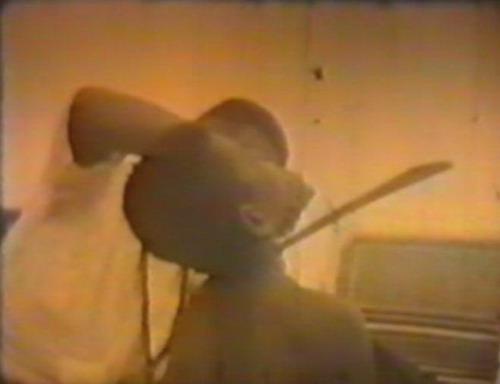 This is a true Kong Grapan Takrut from perhaps the Greatest Lay Master in living History, with further empowerments from a number of the Greatest Ajarns ever of the Khao Or Lineage. Its Miraculous Power is undoubted and has been witnessed and even captured on film, making this amulet a sure bet for those who seek an amulet with true magic power that is notable.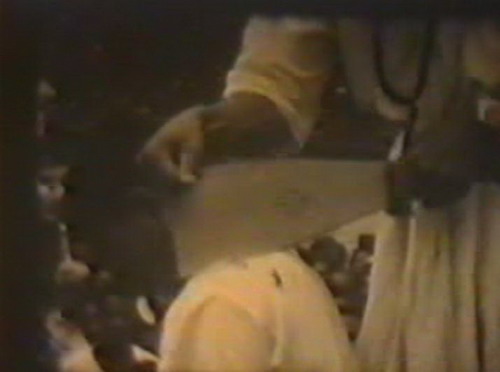 This Takrut can be used for empowering other items by holding and connecting to Sinjana cords whilst praying, chanting and meditating, and transmitting the power through the Sinjana cords.
Pure Kong Grapan Klaew Klaad Magic for serious protection from physical dangers, and evasion of dangerous circumstances. In the picture below, Ajarn Chum tests Kong Grapan with a sharp knife on the throat of a devotee, in the 2511 empowerment ceremony which became famous for the Kong Grapan miracles performed and witnessed.
Ajarn Chum always used his famous magical oil to smear on the heads of the Devotees before performing Kong Grapan Magic.
Other famous Ajarn present for the empowerments were Luang Por Iad, and Ajarn Nam of the Khao Or Lineages as well as Ajarn Kong.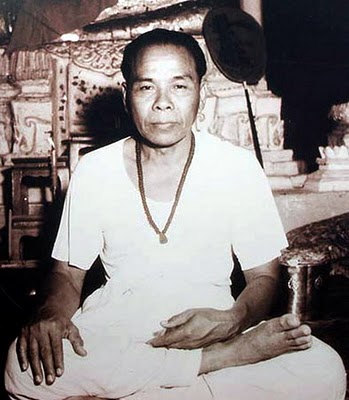 Kata Bucha Pra Krueang Ajarn Chum Chai Kiree (Kata for all amulets from A. Chum)
Na Rong Hai - Na Maa Khao Haa - Na Jidtang Maa Ni Maa Maa - Jidtang Maa Ni Maa Maa(3 Times)
Chant
Na Mo Tassa Pakawadto Arahadto Sammaa Samputtassa (three times)
Then Chant
I Sawaasu Susawaa I - A Sang Wi Su Lo Bu Sa Pu Pa (3 Times